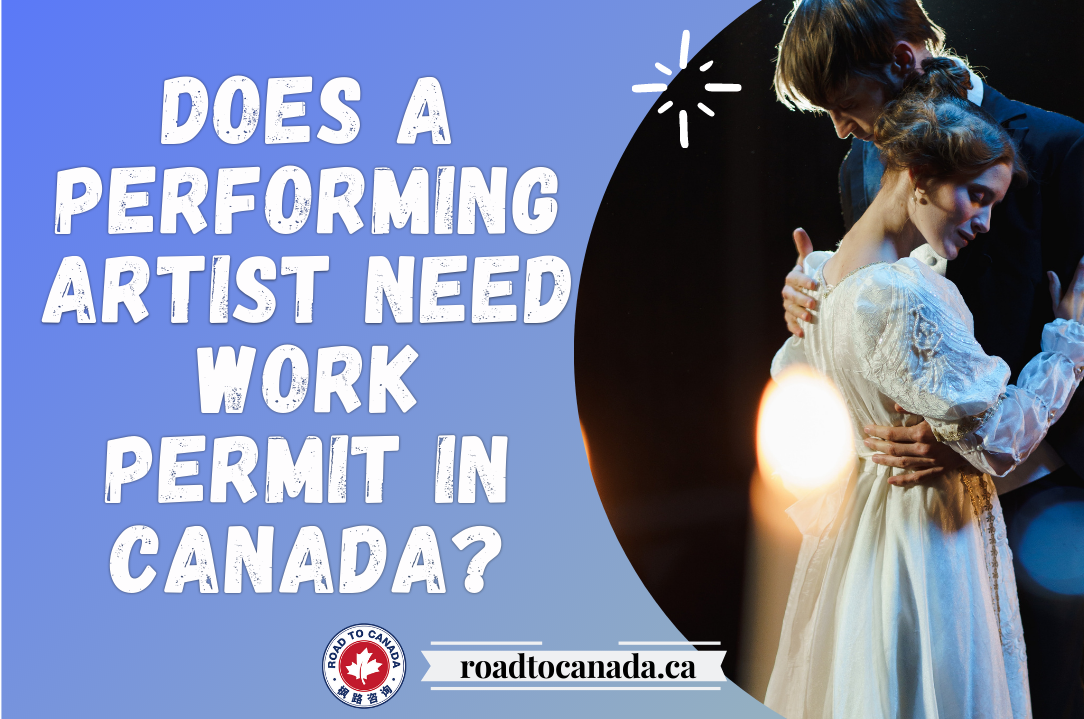 Does a performing artist need work permit in Canada?
/performing artist need work permit/
Artistic and performing arts occupations – Authorization to work without a work permit (International Mobility Program):
Types of performing arts occupations
Actors, artists, technicians, and similar workers in film, television, theatre and radio
The following list is not all-inclusive, but only provides examples of occupations subject to a Labour Market Impact Assessment (LMIA) for work permits in the film and television industry:
screen and television actors, unless part of a group making a motion picture under intergovernmental co-production;
artists involved in taped television dramatic productions and live dramatic performances that are being filmed;
technicians working in film theatre and television productions, unless they meet the requirements of paragraph 186(g) of the Immigration and Refugee Protection Regulations (IRPR);
persons doing dubbing work in films;
persons making a film, videotape or sound recording for use in advertising commercials;
persons participating in making a motion picture or documentary, no matter who finances the project, unless they meet the criteria for exemptions as outlined in R186(i) – News Reporters and media crews;
persons temporarily occupying a permanent position at a permanent performing arts organization (i.e., those not considered to be guest artists).
Adjudicators, artistic field
Adjudicators at music and dance festivals do not require work permits pursuant to R186(m).
American Federation of Musicians of the United States and Canada (AFM)
Musicians working under the Cultural Exchange Program between the Canadian Federation of Musicians (CFM) and the American Federation of Musicians (AFM) do not require an LMIA if they are members of the AFM and citizens of the United States (U.S.). They must possess a letter from the CFM identifying them as participants in the Cultural Exchange Program, and indicating that it would be appropriate for them to work in Canada provided they meet the usual requirements of a temporary resident.
Criterion: A work permit may be required, but an LMIA is not required pursuant to R205(b), C20.
The C-20 LMIA exemption is based on reciprocity intended to match the same length of reciprocal employment. Therefore, for those entering Canada as members of the AFM, the work permit may be issued for a maximum of three months from the original date of entry to reflect the duration of the P-Entertainer or Group Entertainer visa given to Canadians by the U.S. In situations where the requirements of R186(g) are met, no work permit is required.
Buskers
Buskers include street performers or people performing at street festivals. In most cases, they should meet the requirements of R186(g).
Circus performers
Foreign, travelling circus performers should, in most cases, meet the requirements of paragraph R186(g), as they are usually coming for a time-limited engagement and are not in an employment relationship with a Canadian organization.
In cases where the employer is Canadian, there is entry into the Canadian labour market, so an LMIA is usually required.
Some exceptions may apply to Canadian-based circuses, such as Cirque du Soleil, that can demonstrate the significant social, cultural or economic benefit they provide to Canada. In these cases, foreign circus performers, choreographers, artistic directors and others (that is, staff who are essential to the creative and artistic processes) who are working for a Canadian-based circus may be authorized to enter Canada, under the significant benefit exemption [R205(a), C10].
Circuses wishing to benefit from this exemption should be able to demonstrate that their shows are international in nature (for example, in presentation or because they tour outside Canada) and contribute to the ongoing, positive, international reputation of Canadian circuses. These circuses should also be able to demonstrate that their reputation as a circus depends on their recruitment of foreign circus performers, choreographers, artistic directors and others (that is, staff who are essential to the creative and artistic processes) to maintain a high level of artistic and international prestige.
Conductors
Conductors include orchestra leaders and people coming to conduct various concerts. If the conductor will be hired on a full-time basis by a Canadian orchestra, a work permit and an LMIA are required. If they are a guest conductor, coming for just one or a few concerts, they may work without a permit, pursuant to R186(g).
Festivals
Artists and musicians hired to perform at festivals in Canada which are time-limited engagements are eligible for the R186(g) work permit exemption.
Film co-producers
All foreign workers entering Canada to take up employment under the terms of a film co-production agreement between Canada and any foreign country are exempt from the LMIA requirement. The foreign worker must present a letter issued by the Canadian co-producer confirming that a co-production agreement has been signed and specifying what role the foreign worker will fill in the production. The worker should also present a copy of their contract with the Canadian or foreign co-producer. Telefilm Canada plays a role in approving co-production agreements and is available to confirm that an agreement exists, if necessary. (Telefilm Canada 1-800-567-0890)
Criterion: A work permit is required but workers are exempt from the LMIA under R204, T11.
For more information, see:
Film producers employed by foreign companies
Persons employed as producers by foreign film or television companies coming to produce a film or documentary entirely funded from abroad are exempt from work permits as persons who meet the criteria of business visitors under R187.
Film and recording studio users
Individuals and groups who purchase services or rent equipment from recording and film studios in Canada may be authorized to enter Canada without work permits if they meet the criteria of R187.
Guest artists coming to perform on Canadian television or radio
A strict reading of R186(g) may lead an officer to conclude that this Regulation does not apply and that work permits and LMIAs are required in this situation. However, Immigration, Refugees and Citizenship Canada's policy intent is better reflected by a different interpretation: the musical guest artist coming to perform on, for example, "Open Mike" with Mike Bullard or Canada AM is primarily a guest artist. Although the show will be broadcast, the musician does not have a stake in it, nor are they really integral to the show. As guests, they should be authorized to enter Canada without a work permit in the same way as they would if they were simply speaking on the show. However, if they were coming to act or sing a regular part in a Canadian television series, they would require a work permit and an LMIA.
Permanent positions in performing arts venues
Persons coming temporarily to occupy permanent positions as members of permanent organizations such as theatres, dance groups, orchestras, house bands, etc., are required to hold work permits and LMIAs. This includes persons coming as choreographers and announcers.
World Wrestling Entertainment (WWE)
These performers and their accompanying essential crew may be authorized to enter Canada pursuant to R186(g) which includes a stipulation that the performance not be "primarily for a film production or television or radio broadcast". While most of their staged performances are broadcast live in a pay-per-view format or filmed for later commercial broadcast, this is not considered to be the primary purpose of the performance.
A substantial portion of the WWE's revenues from live events does stem from simultaneous or subsequent broadcast and film. However, a substantial portion is also received from ticket sales to the live events. Furthermore, if the primary intent of these performances were not to attract and entertain a live audience, then there would be no reason for the WWE to undertake the expense and inconvenience of offering a touring performance.
Note: The R186(g) exemption does not apply to any WWE workers directly involved in the film, television or radio broadcast elements of the production. This includes all WWE camera operating positions.